Het Nederlandstalige James Bond-magazine Bondesque is terug! De eerste editie van Bondesque Magazine verscheen in 2011, toen nog onder de paraplu van James Bond Nederland. Bondesque Magazine nummer 6 verschijnt halverwege juni, als zelfstandig magazine. Natuurlijk weer met originele, informatieve en verrassende artikelen. De unieke inhoud is als vanouds samengesteld door hoofdredacteur Merlijn Kuiper, in samenwerking met James Bond-kenners van over heel de wereld.
Bondesque Magazine is nu een onafhankelijk magazine met een eigen website.
Dutch-language James Bond magazine Bondesque is back! The first edition of Bondesque Magazine was published in 2011, then still under the umbrella of James Bond Nederland. Bondesque Magazine number 6 will appear in mid-June, as an independent magazine. Of course, again with original, informative and surprising articles. As always, the unique content is compiled by editor-in-chief Merlijn Kuiper, in cooperation with James Bond connoisseurs from all over the world.
Bondesque Magazine is now an independent magazine with its own website. F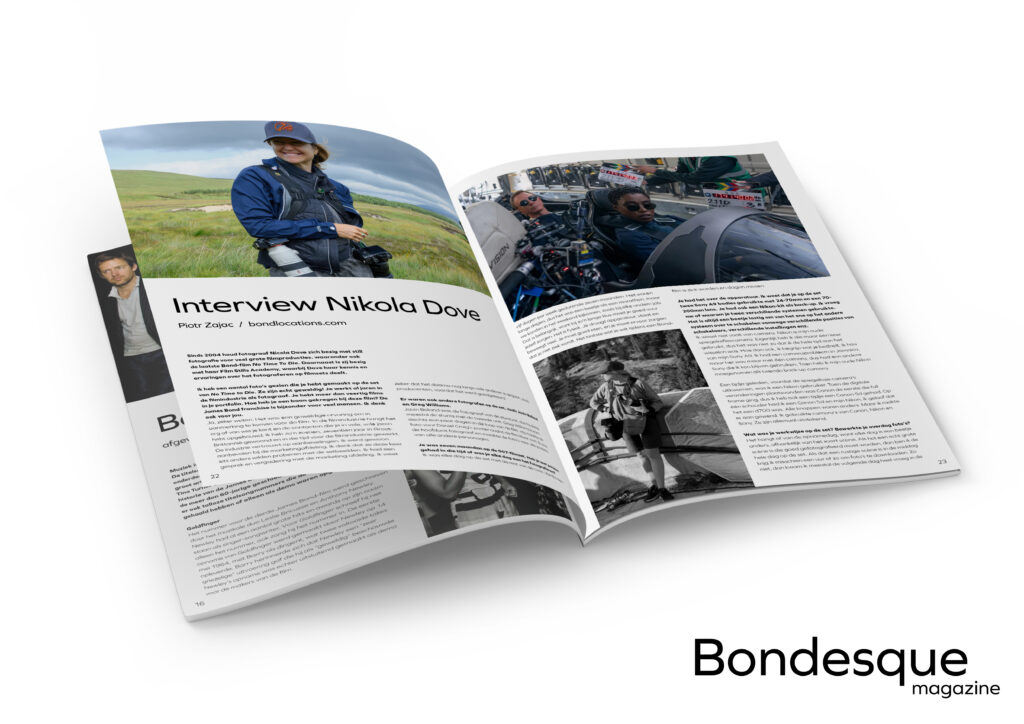 Vanaf nu kun je je daar gratis en vrijblijvend inschrijven, om zo op de hoogte te blijven van de laatste ontwikkelingen rondom Bondesque Magazine editie 6. Als je aanmeldt, word je als eerste op de hoogte gebracht van de voorverkoop van deze nieuwe editie. De eerste kopers ontvangen een gelimiteerde Bond-print van Reuben Wakeman.
rom now on, you can subscribe there for free and without obligation, to stay up to date with the latest developments surrounding edition 6. If you sign up, you will be the first to be informed about the pre-sale of this new edition. First-time buyers will receive a limited-edition Bond print by Reuben Wakeman.
Inhoud Bondesque Magazine #6
In dit nummer weer een mooie balans tussen de wereld van de James Bond films en die van de 007-boeken. We nemen je mee naar de thuisbasis van Fleming – Jamaica – geven je een blik achter de schermen bij de setontwerpen van de laatste Bond-film, No Time To Die, en duiken in de verrassende geschiedenis van de titelsongs. Niet alleen de bekende: ook de songs die het witte doek niet haalden.
Pjotr Zajac interviewde de still-fotograaf van No Time To Die, Nicola Dove, we duiken in de posterontwerpen van Vic Flair en bekijken hoe veel van de spectaculaire sneeuwopnames in de Bond-films werden gemaakt door cameraman Willy Bogner Junior.
Engelstalige editie
Momenteel wordt er gekeken naar de haalbaarheid om een Engelstalige editie van Bondesque Magazine te realiseren.
Content Bondesque Magazine #6

In this issue, we once again present a fine balance between the world of the James Bond films and that of the 007 books. We take you to Fleming's home base – Jamaica – give you a look behind the scenes at the set designs of the latest Bond film, No Time To Die, and delve into the surprising history of the title songs. Not just the famous ones: also the songs that didn't make it to the big screen.
Pjotr Zajac interviewed No Time To Die's still photographer Nicola Dove, we dive into Vic Flair's poster designs and look at how many of the spectacular snow shots in the Bond films were taken by cameraman Willy Bogner Junior.
English-language edition
The feasibility of creating an English-language edition of Bondesque Magazine is currently being explored.