Zonder een grootse aankondiging konden we in september vorige jaar lezen dat Agora Models met een James Bond-serie gaat komen. Het bedrijf is gespecialiseerd in het uitgeven van hoogwaardige schaalmodellen in de schaal 1:8, die je zelf in elkaar moet zetten. Deze winter komt Agora Models met het eerste model: de Aston Martin DB5 uit No Time To Die. De voorverkoop gaat volgende maand starten.
De auto is door Agora Models met 3D scanners helemaal ingescand en een 3D model van gemaakt. Hiervoor hadden ze toegang tot het model welke in de film gebruikt was en de medewerking van Aston Martin. Het model, bijna 57 cm lang, is voorzien van alle gadgets uit de film. Dit is inclusief de veranderende nummerplaten in LED, werkende M134 Miniguns achter de koplampen en mijnen in de achterbumper. Er kan bij het Agora Models gekozen worden voor een gave DB5 of voorzien van de schade zoals in de film te zien was.
Without a big announcement, we could read last September that Agora Models is going to come out with a James Bond series. The company specialises in publishing high-quality scale models in 1:8 scale, which you have to assemble yourself. The first model will arrive this winter: the Aston Martin DB5 from the latest James Bond film No Time To Die. Pre-sales will start next month.
The car was completely scanned in by Agora Models with 3D scanners and a 3D model made of it. For this, they had access to the model used in the film and the cooperation of Aston Martin. The model, almost 57 cm long, features all the gadgets from the film, including changing number plates to LED, working M134 Miniguns behind the headlights and mines in the rear bumper. You can choose a cool DB5 or feature the damage exactly as seen in the film.
Voor het ontwerpen van de Agora Models James Bond Vehicle Collection werden afgelopen maanden verschillende voertuigen 3D ingescand. Dat gebeurde ondermeer tijdens de tentoonstelling Bond In Motion in het Petersen Automotive Museum in de Verenigde Staten. Samen met originele tekeningen zijn alle voertuigen helemaal nagebouwd in 3D. Daarna heeft het bedrijf alle afzonderlijke onderdelen uitgewerkt voor de productie.
To design the Agora Models James Bond Vehicle Collection, several vehicles were scanned with a 3D scanner in recent months. This was done partly during the Bond In Motion exhibition at the Petersen Automotive Museum in the United States. Together with original drawings, all vehicles were completely recreated in 3D. The company then worked out all the individual parts for production.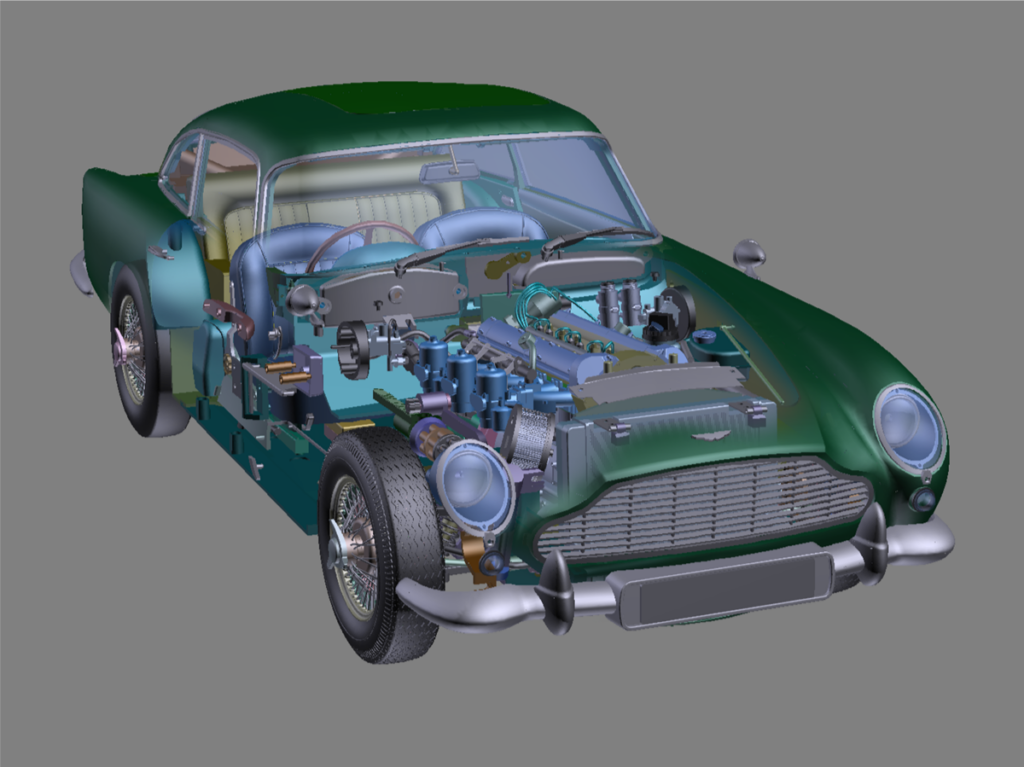 Het is de tweede keer dat er een Aston Martin DB5 uit de James Bond-films op deze schaal word uitgegeven. Een aantal jaar geleden kwam Eagle Moss met de DB5 uit Goldfinger. Agora Models staat bekend om de zeer hoge kwaliteit van de modellen. Het is de start van een collectie. Het is nog onbekend welke voertuigen er nog meer gaan komen. Op de website staat wel een 3D tekening van de Lotus Esprit duikboot uit The Spy Who Loved Me. Andere voertuigen die wellicht gaan volgen zijn de Aston Martin V8 (The Living Daylights), V12 Vanquish (Die Another Day) en de DB10 uit Spectre. Op de website staan foto's van de Jaguar XKR Roadster van Zao en de unieke Jaguar C-X75 van Hinx.
This is the second time an Aston Martin DB5 from the James Bond films has been released on this scale. A few years ago, Eagle Moss came out with the DB5 from Goldfinger. Agora Models is known for the very high quality of its models. It is the start of a collection. It is still unknown what other vehicles will come. However, the website already shows a 3D drawing of the Lotus Esprit S1 submarine from The Spy Who Loved Me. Other vehicles that might follow are the Aston Martin V8 from The Living Daylights, the Aston Martin V12 Vanquish from Die Another Day and the DB10 from Spectre. The website also shows pictures of Zao's Jaguar XKR Roadster and Hinx's unique Jaguar C-X75.
Er zijn nog geen prijzen bekend gemaakt van de Agora Models Aston Martin DB5. De voorverkoop zal aankomende juni starten.
No prices have been announced yet. Pre-sales will start next June.